The Varenne Ensemble
A Versatile Group
The Varenne Ensemble is a versatile group founded by Elaine Cocks to explore the extensive repertoire of chamber music written for the clarinet.
The group is made up from a number talented musicians around the U.K. Group sizes vary from duo to octet and their repertoire is expanding all the time.
As a trio Elaine Cocks, Robin Michael and Daniel Tong performed to great acclaim in 2014 and received the following accolades:
Elaine's playing was described as "impressive and stylish"
"The sheer joy and enthusiasm in performance was somehow magically special"
"Elaine obtained an astonishing range of colours in all registers of the instrument, lovely warm tone and exemplary control"
The Times and The Sunday Times have described Elaine's interpretation of contemporary music as being "delivered with great élan"
"Daniel Tong's playing is both refined and sensitive."
"Daniel Tong's finely calibrated performance of Beethoven's Sonata in F sharp op. 78.....added depth and range to the programme."
"This is an accompanist who has much musicality to offer."
Beethoven's Piano Trio No.4 op 11 "...an engaging mixture of mellifluous balance and vivacity"
Tate Sonata for Clarinet and Cello "we were treated to a riveting sequence of phrases demonstrating just how glorious and varied the clarinet and cello can be in the right pair of hands. The Sarabanda was played with superb delicacy, and conveyed a ghostly quality that was maintained into the more complex finale."
Brahms Trio Op. 114 " The drama and variety of the Allegro was beautifully matched by the thoughtful calm of the Adagio."
"Their musicianship and cohesion was a privilege to experience live in this ensemble"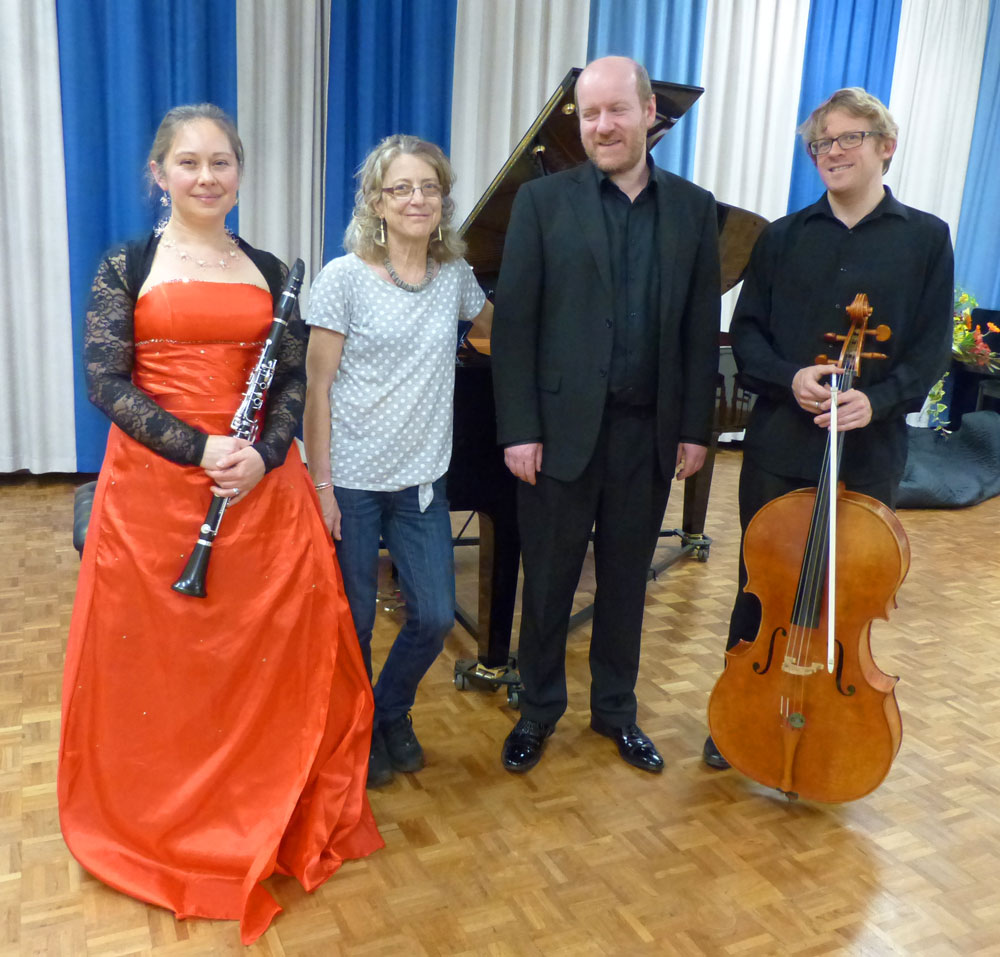 The Varenne Ensemble with Celia Frank
"It was a great pleasure to hear Elaine Cocks and Robin Michael perform my mother's Sonata for Clarinet and Cello. It is a wonderfully moody, lyrical yet witty work and they managed to capture all the nuances with enormous skill and sensitivity. It was a heartfelt performance and the audience responded enthusiastically . It was a memorable and truly special evening for me." Celia Frank - daughter of Phyllis Tate.